Page not complete?
Can you provide any information?
Run by: Walkerburn RFC
Where: Caberston Haugh, Walkerburn
Winners play for: Royal Jubilee Cup
Notes: –
Past winners
Men
2023 Haddington
2022 Peebles
2021 no tournament – coronavirus pandemic
2020 no tournament – coronavirus pandemic
1942-1946 Second World War
1915-1919 First World War
Tournaments
13 May 2023
Draw:
Semi-Final:
Lismore v Biggar
Haddington v Gala Y.M.
Final:
Haddington v Biggar
Haddington won.

7 May 2022
Draw:
Pool 1:
Hawick Linden
Lismore
Peebles
Penicuik

Linden beat Lismore 12-5 in tie 1. Tries from Aiden Fairbairn and John Frew with Frew kicking one.
Peebles beat Linden 7-5 with John Frew getting the Linden try.
Linden beat Penicuik 26-15 and progress to semi final v Earlston. Craig Glendinning, John Frew and 2 tries for Ryan Ali. 3 converted by frew.
Semi-Finals:
Hawick Linden 22 Earlston 12
Tries scored by Euan Wood, Alexander Beveridge, Ryan Ali and Craig Glendinning who also kicked 1 convertion.
Final:
Peebles 35 Hawick Linden 10
Aiden Fairbairn scoring the 2 Linden tries.
25 May 2019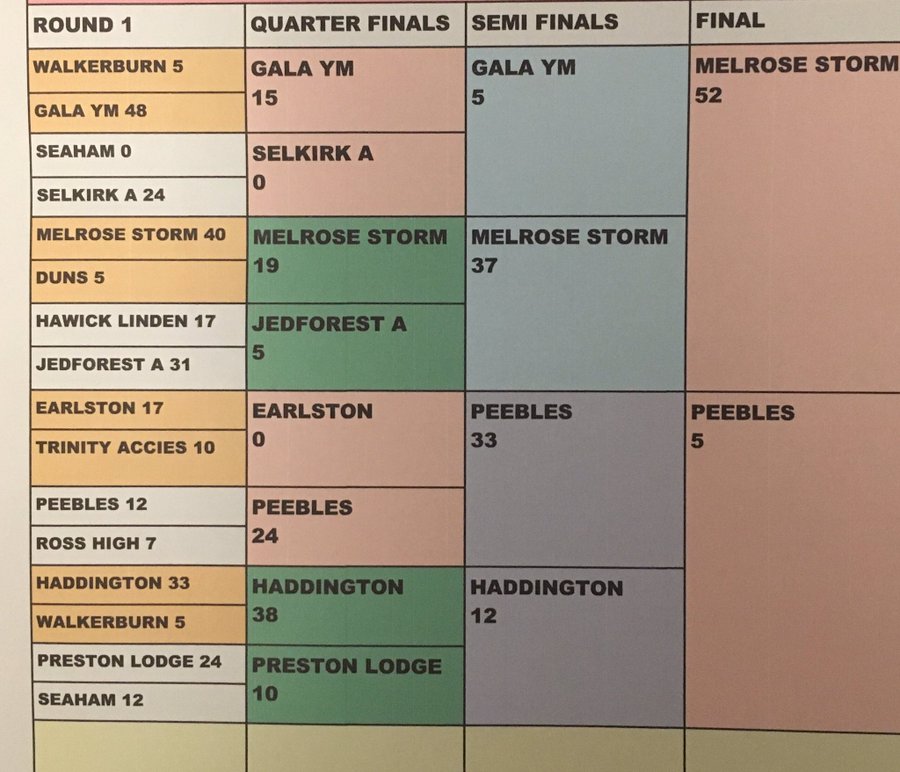 2 May 1964
https://news.google.com/newspapers?nid=GGgVawPscysC&dat=19640504&printsec=frontpage&hl=en
2 May 1953
6 May 1911
https://www.britishnewspaperarchive.co.uk/viewer/bl/0000469/19110511/045/0004
Teams
13 May 2023
Peebles
Walkerburn
Haddington
Connor Munro (c), Andy Durkin, Colin Stuart, Harvey Blake, Hugo Elder, Kirk Washington-Mackay, Ewan Cunningham, Freddie Cunningham, Ben Moffat, Ollie Craig
7 May 2022
Hawick Linden squad:
E.Wood J.Frew C.Glendinning J.Ford A.Beveridge A.Fairbairn M.Huggan M.Boyle R.Ali R.Borthwick