Page not complete?
Can you provide any information?
Run by: Musselburgh RFC
Where: Stoneyhill, Musselburgh. Up until the 1951-52 season the club played at Shirehaugh, Musselburgh.
Winners play for: Brunton Cup
Notes: Thanks to Aidan Taylor for additional information.
Past winners
Mens
2022 Marr
2021 no tournament – coronavirus pandemic
2020 no tournament – coronavirus pandemic
2019 Musselburgh
2018 Musselburgh
2017 Red Kites
2016 Red Kites
2015 Musselburgh
2014 Preston Lodge
2013 Musselburgh
2012 Haddington
2011 Untouchables
2010 Musselburgh
2009 Musselburgh
2008 Musselburgh
2007 Heriots
2006 Hamilton
2005 Chester
2004 Heriots
2003 Musselburgh
2002 Heriots
2001 Edinburgh Academicals
2000 Hawick
1999 Hawick
1998 Stewarts Melville
1997 Musselburgh
1996 Corstorphine
1995 Heriots
1994 Corstorphine
1993 Musselburgh
1992 Edinburgh Academicals
1991 Haddington
1990 Musselburgh
1989 Preston Lodge
1988 Musselburgh
1987 Musselburgh
1986 Haddington
1985 Melrose
1984 Portobello
1983 Haddington
1982 Haddington
1981 Melrose
1980 Melrose
1979 Edinburgh Academicals
1978 Haddington
1977 Haddington
1976 Haddington
1975 Dunfermline
1974 Stewarts Melville
1973 Leith Academicals
1972 Boroughmuir
1971 Haddington
1970 Boroughmuir
1969 Boroughmuir
1968 Watsonians
1967 Dunfermline
1966 Trinity Academicals
1965 Trinity Academicals
1964 Heriots
1963 Boroughmuir
1962 Watsonians
1961 Boroughmuir
1960 Stewarts College FP
1959 Boroughmuir
1958 Boroughmuir
1957 Musselburgh
1956 Watsonians
1955 Edinburgh University
1954 Watsonians
1953 Heriots
1952 Heriots
1951 Musselburgh
1950 Musselburgh
1949 Musselburgh
1948 Perthshire Academicals
1939-47 No tournament
1938 Royal HSFP
Tournaments
7 May 2022
https://www.musselburghrfc.com/post/musselburgh-sevens-marr-beat-hosts-in-final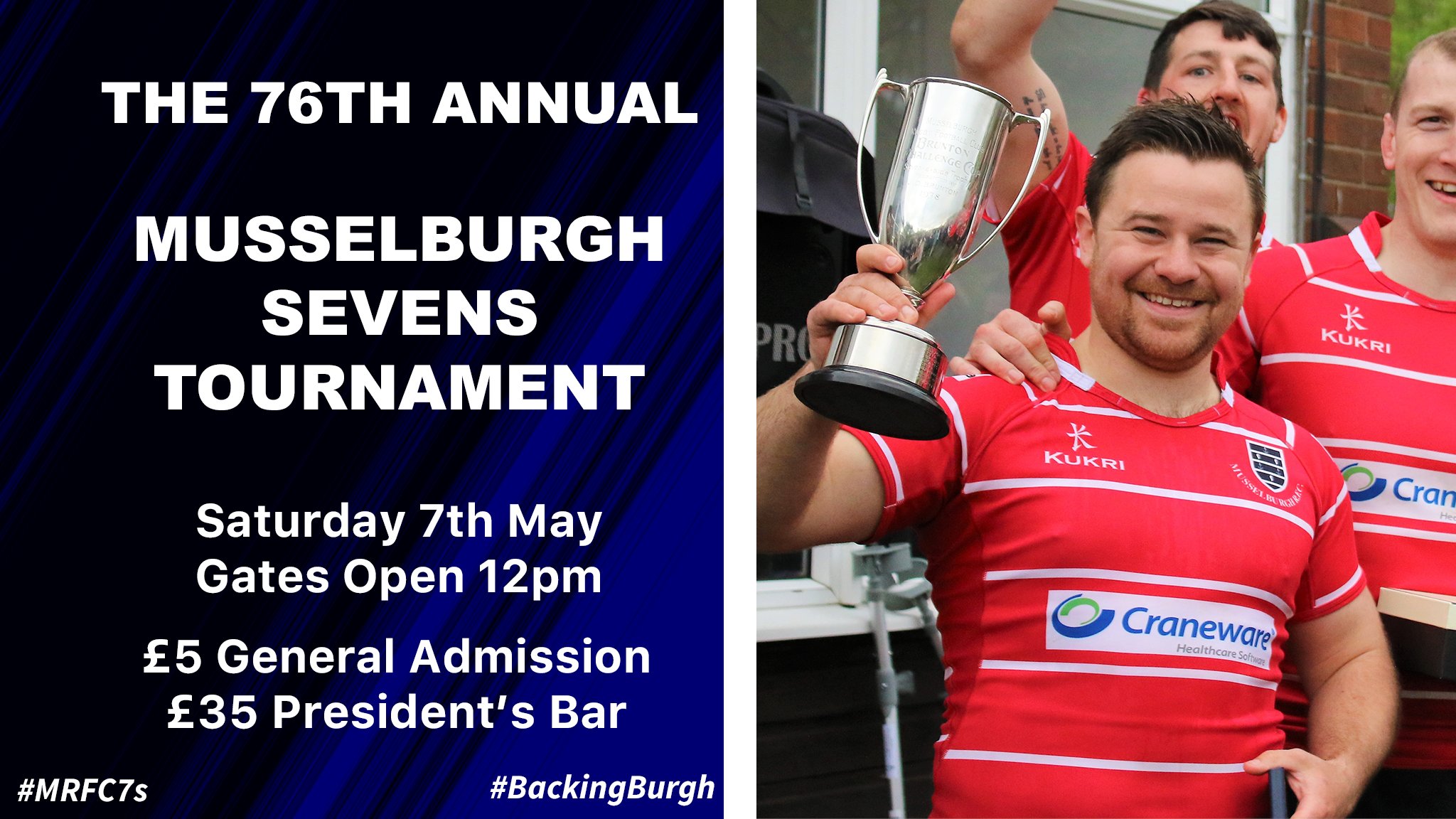 Draw: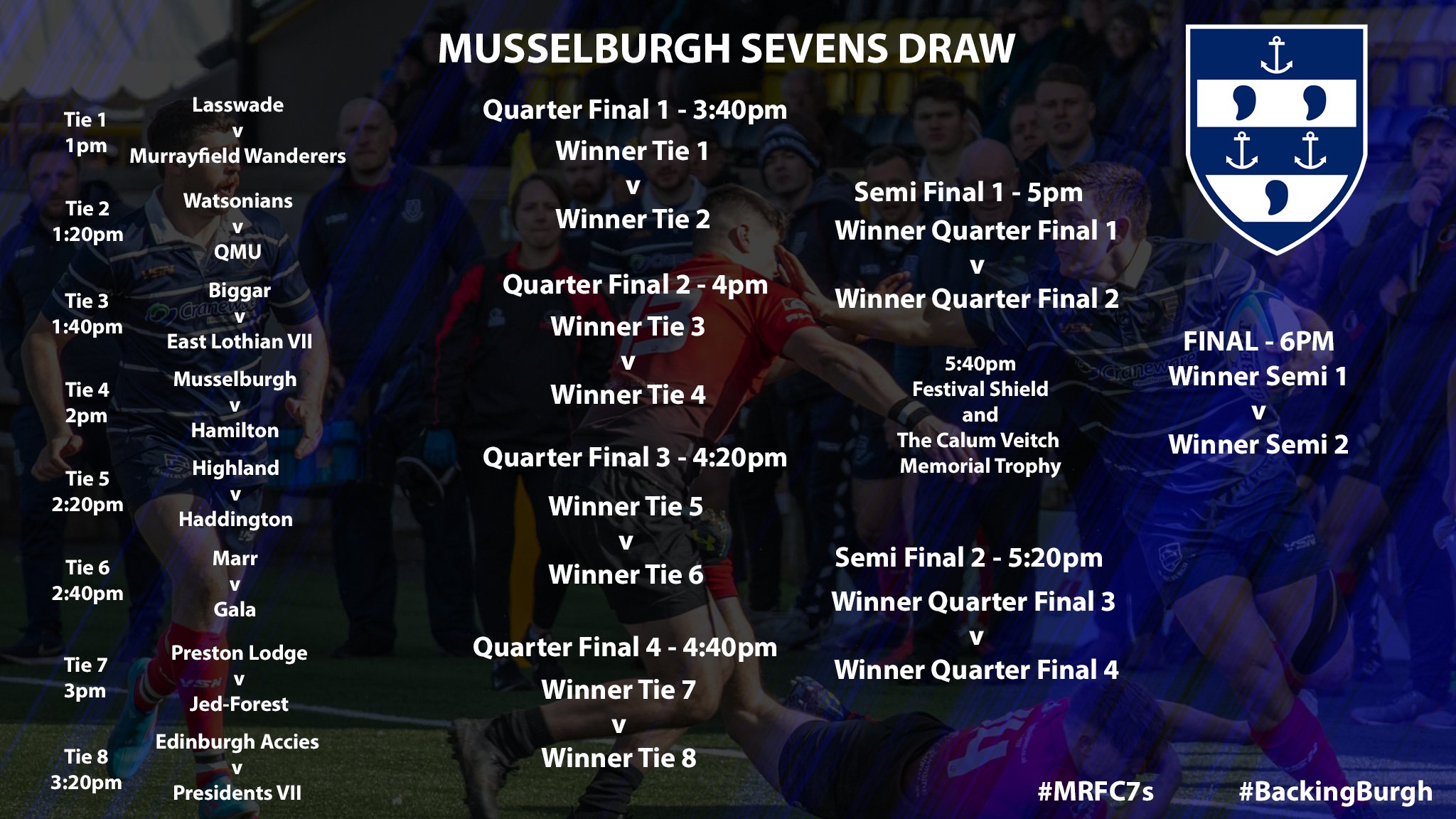 Round 1:
Lasswade RFC were a late call off. Murrayfield Wanderers received a bye.
Watsonians 45 QMU 12
Biggar 50 East Lothian VII 0
Musselburgh 45 Hamilton 19
Highland 38 Haddington 5
Marr 39 Gala 5
Preston Lodge 24 Jed-Forest 14
Edinburgh Academicals 29 Presidents VII 12
Quarter-Finals:
Murrayfield Wanderers beat Watsonians
Musselburgh 26 Biggar 17
Marr 17 Highland 15
Preston Lodge beat Edinburgh Academicals
Semi-Finals:
Musselburgh 34 Murrayfield Wanderers 17
Marr beat Preston Lodge
Final:
Marr 19 Musselburgh 17
25 April 1964
https://news.google.com/newspapers?nid=GGgVawPscysC&dat=19640427&printsec=frontpage&hl=en
25 April 1953
23 April 1949
https://news.google.com/newspapers?nid=GGgVawPscysC&dat=19490425&printsec=frontpage&hl=en
9 September 1939 (cancelled)
https://www.britishnewspaperarchive.co.uk/viewer/bl/0002692/19390901/154/0008
https://www.britishnewspaperarchive.co.uk/viewer/bl/0000452/19390904/232/0008
10 September 1938
From the Hawick Express of 31 August 1938:
MUSSELBURGH SEVENS Musselburgh are the latest Rugby club to offer a silver challenge cup for competition.
Through the generosity of their hon. president, Mr J. D. Brunton, the Club has received a handsome cup, and the winners of the sevens at Musselburgh on Saturday, September 10, will hold the cup for one year. The winners will also receive gold medals.
Strong sevens have been promised from the following clubs:—Royal High School, Edinburgh Academicals, Edinburgh Wanderers, Edinburgh City Police, Edinburgh Borderers, Selkirk, Melrose, Gala Star, Hawick Linden, Walkerburn and Peebles.
From The Scotsman of 12 September 1938:
MUSSELBURGH SEVENS
EASY SUCCESS FOR ROYAL HIGH SCHOOL (F. P.)
A strong Royal High School (F. P.) side proved a class above anything else in the Musselburgh Rugby Club's first seven-a-side tournament, held at Shirehaugh, on Saturday, and they were easy winners of the Brunton Challenge Cup and gold medals. In none of their ties could it be said that they were fully stretched. Walkerburn actually scored first against them in the semi-final but any visions of a turn-up were soon dispelled, and against Gala Star in the final the Schoolmen ran up the biggest score-of-the day. The junior combination from the Borders, who had had a gruelling match in the semi-final, were completely outplayed. To get to the last stage however was a fine performance on the part of Gala Star. Their tussle with Melrose in the penultimate round was the match of the day and was decided by the last minute score. The promoting club went out to Walkerburn in the first round, but ought not to the run of play.
The winning team , read:- R. M. Macarthur, J. Borthwick, E. T. Gollogly, D. Murray, P. W. Tait , J. Allen and R. Bisset.
Results:
First Round:
Royal HSFP 16 Edinburgh Borderers 5
Walkerburn 3 Musselburgh 0
Gala Star 5 Edinburgh Wanderers 3
Melrose 5 Hawick Linden 0
Second Round:
Royal HSFP 14 Selkirk 3
Walkerburn 9 Earlston 3
Gala Star 11 Edinburgh City Police 0
Melrose 17 Edinburgh Academicals 0
Semi-Finals:
Royal HSFP 11 Walkerburn 3
Gala Star 6 Melrose 3
Final:
Royal HSFP 24 Gala Star 0
Teams
7 May 2022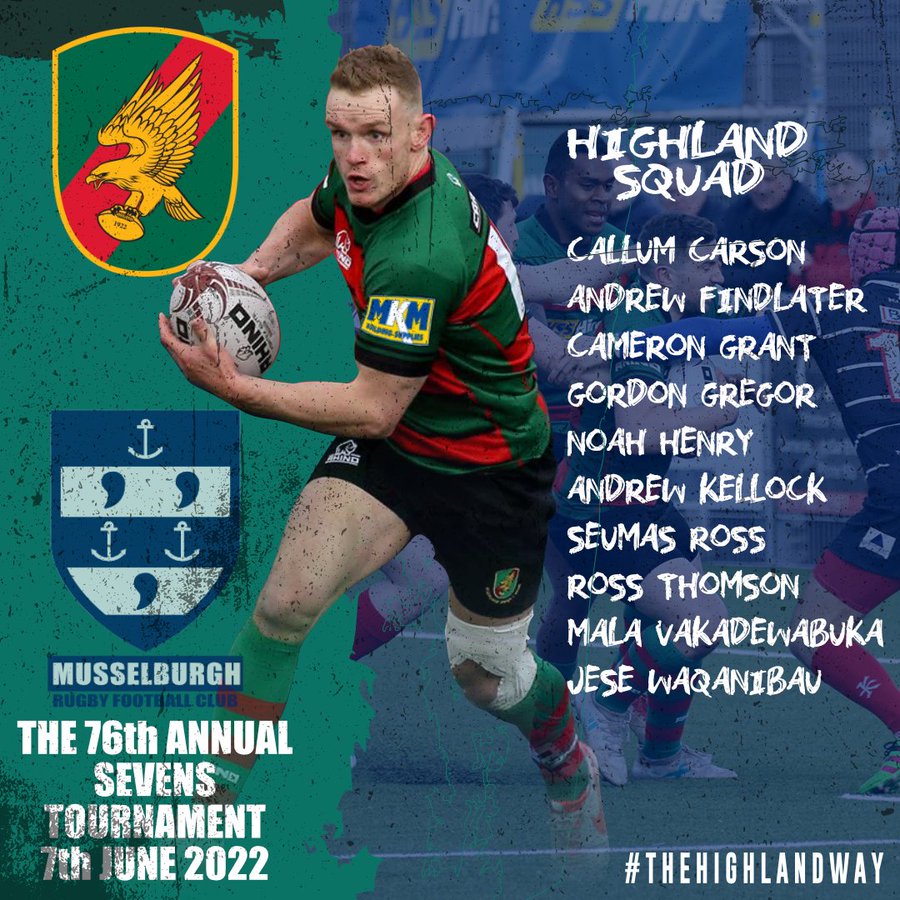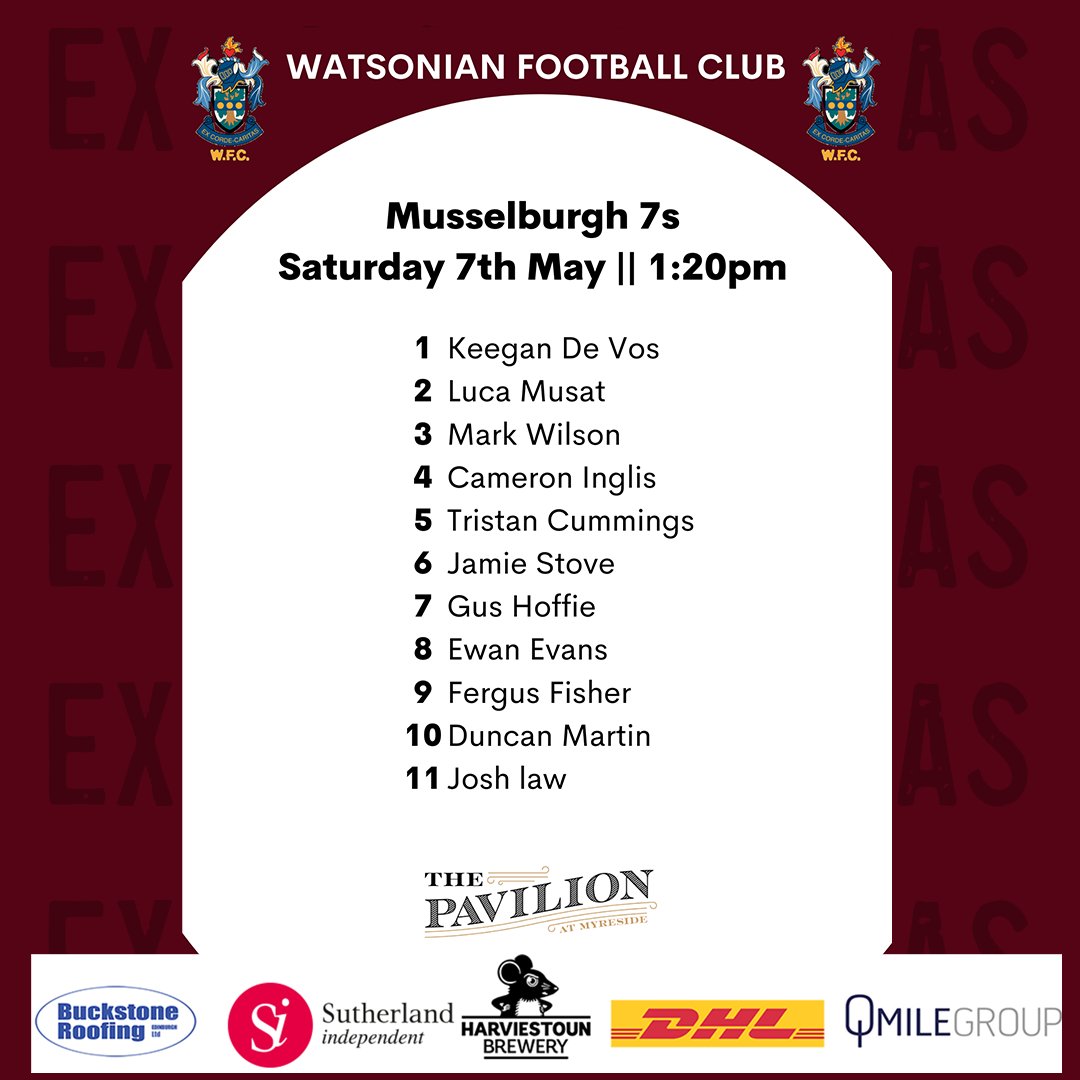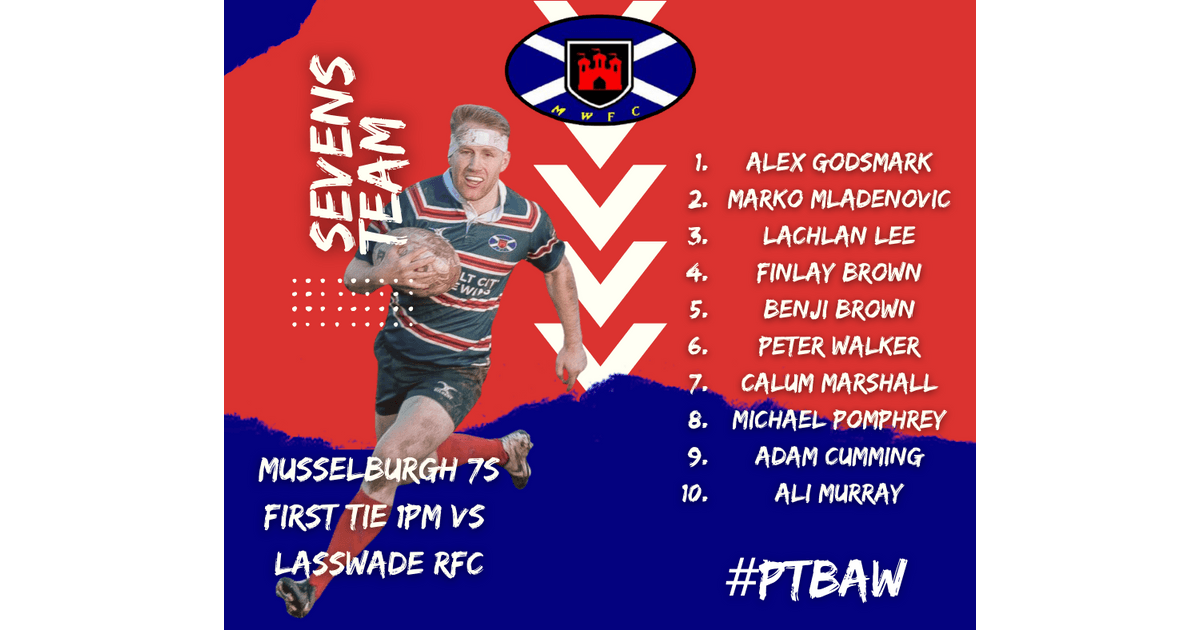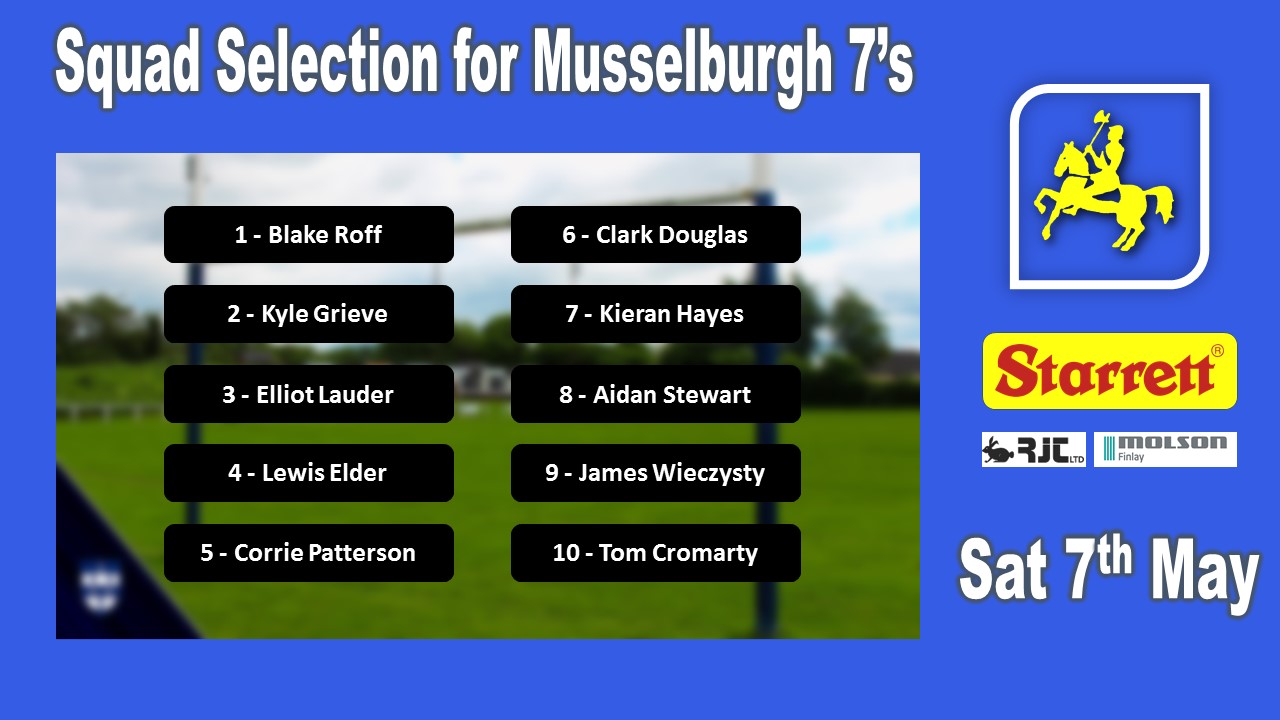 10 September 1938